Our Most Popular Sites:
Other Cities/States
LESBIANIGHTLIFE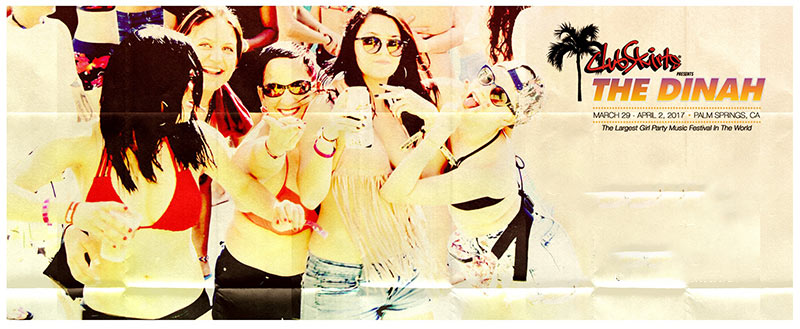 2017 Dinah Shore Weekend in Palm Springs
March 29 - April 2, 2017
http://thedinah.com/
Dinah History Founder of The Club Skirts Dinah Shore Weekend, held annually in Palm Springs, California, Mariah Hanson produced her first Dinah Shore Weekend in 1991. Taking over the world renowned Palm Springs Modern Art Museum, Mariah's first event was sold out, packing every room of the museum, where party goers drank martini's while surrounded by tens of millions of dollars worth of art. Mariah also booked entire hotels so that they were 100% lesbian occupied, brought in national sponsors, popular national recording artists, and kept all events in walking distance. The simple but daring concept, of creating a lesbian world within the city, catapulted the Dinah to international fame. Today, The Dinah is considered the largest lesbian event in the world. 2017 marks The Dinah's (as the event is affectionately called), 25th anniversary celebration. Plans are already in place to produce the most stellar Dinah in history.
GIVING BACK
Mariah has always believed in giving back to our community. Past recipients have included The San Francisco Gay and Lesbian Community Center, GLAAD, The Women's Building, National Center for Lesbian Rights, Jon Sims Center, Ladies Philharmonic, Uhuru Movement, various lesbian film projects, HRC, Lyon Martin Health Clinic, Los Angeles Gay and Lesbian Community Center, many gay and lesbian politicians, Yes on S, Yes on K, & More! Mariah thinks giving back is important. Do what you can!